AGS Conecta+ iTS Compact:
the first compact digital telematics thermograph
Conecta+ iTS Compact is the first compact digital thermograph on the market to comply with the stipulations of the R.D. 244/2016, the European standard UNE-EN 12830:2019, and the metrological control requirements demanded by the Spanish Order ICT 155/202. Thanks to its innovative design, Conecta+ iTS Compact offers the flexibility to be used both fixed installations and, stand-alone and portable, providing the user with new options to improve control and compliance with the cold chain.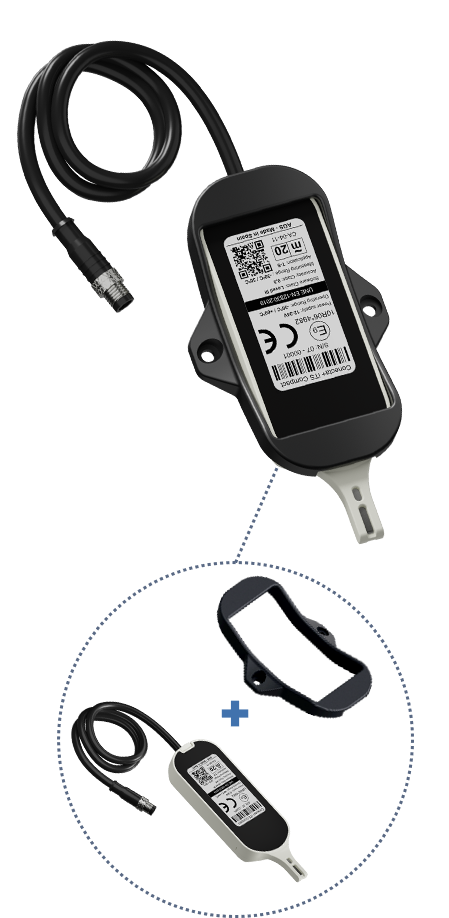 Wired finish
Designed for permanent use in fixed installations, in both industrial vehicles and cold rooms of food and/or pharma distribution centers.
Conecta+ iTS Compact Wired version is fully compatible with the Conecta+ iON device, which can be connected both physically and wirelessly to report in real-time, both temperatures and recorded incidents anytime and those stored in its internal storage memory.
With this version, Conecta+ iTS Compact can be connected in series, and partner with other Conecta+ device range (Conecta+ ST02 humidity probes, Conecta+ ST03 temperature probes ...) in both new and existing installations.

Battery finish
Thanks to its autonomous power supply, it can be used without recharging the battery between 4 and 16 weeks, depending on the operating mode.
The iTS Compact Wired version is particularly suitable for measuring the temperature of the goods transported and/or stored in:
Portable isothermal refrigerators.
Light refrigerated industrial vehicles.
For charging the battery of the Conecta+ iTS Compact Wired version device, the Conecta+ iTS Charger module is available, which provides an external power supply source via USB and/or charger for connection to a wall outlet.
AGS Conecta+ iTS Compact: features
Real-time temperature control.

Storage, for at least 1 year the previously recorded temperatures every 5 minutes (every 30 or 60 seconds in laboratory mode).

No physical seals to facilitate installation and/or maintenance. The seals are digital.

Applicable not only to vehicles but also to cold-store rooms.

Bluetooth connection for Android and iOS mobile devices (all finishes).

Possibility of a wired connection in series (only Wired finish).

Modular power design, the user can use both power modules (Wired and Battery) at any time.
Battery Finish: especially suitable for measuring the temperature of transported and/or stored goods.

Greater flexibility in:

Extensions to existing facilities.

Replacement of damaged devices.

Management of periodic reviews that are applicable, either by the provisions of the Metrological Control of each country or by the calibrations established in the Quality Plan, to be fulfilled by the company.
AGS Conecta+ ITS Compact: Technical features
Compliant Regulations:
• UNE-EN 12830:2019
• Order ICT 155/2020
• Regulation 10

Accuracy class:

0,5
Measurement resolution:
0,01 ºC
Software class (security level)
Nivel III
Scope of application:
T (transport) and S (storage)
Temperature ranges:
• Approved: between -30 ºC and 30 ºC.


• Work: between -30 ºC and 60 ºC

Measurement error :
(between -30 ºC and 30 ºC)
• Typical: ± 0.05 ºC
• Maximum: ± 0.25 ºC
Protection rating:
IP-68
Energy:
• External supply voltage: 12/24 V.
Consumption


• Medium: 90 µA (typical operation mode with temperature recording every 5 minutes).




• Low consumption: less than 20 µA.

Communications:
• Bluetooth 5.0 (all finishes)


• RS-485 (Wired finish only)